How do you start your day? My children love a good breakfast. Our main selection is a farm fresh egg, piece of toast and fruit. However, some days we change it up.
I am always on the look out for a fun idea. Anything to hep my children along on trying new and fun foods. I will save my favorite new item for last.... Mmmmmm!
Egg n' toast! I always loved this meal as a child. Thankfully, my children love it as well.
Banana Bread French toast! Pretty much anything with banana is adored in our household.
Fresh made English muffins! I was not over ally impressed with this formula. However, they did taste good.
Sooooo.... Here it is! By far this is my favorite new breakfast meal!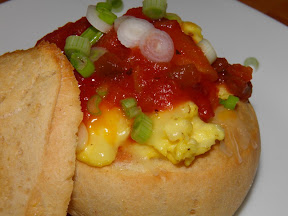 It is extremely simple to make as well. The roll is hollowed out. Fill with scrambled eggs and cheese. Place in a hot oven. Top with salsa and green onions. You can cook some bacon and add it to the eggs while cooking.
The original recipe I created this from cracked a raw egg into the roll. It was then topped with bacon, salsa, and green onions.
What is your favorite breakfast meal?
Enjoy!